BEYOND
CONSTRUCTED
REMAINS︎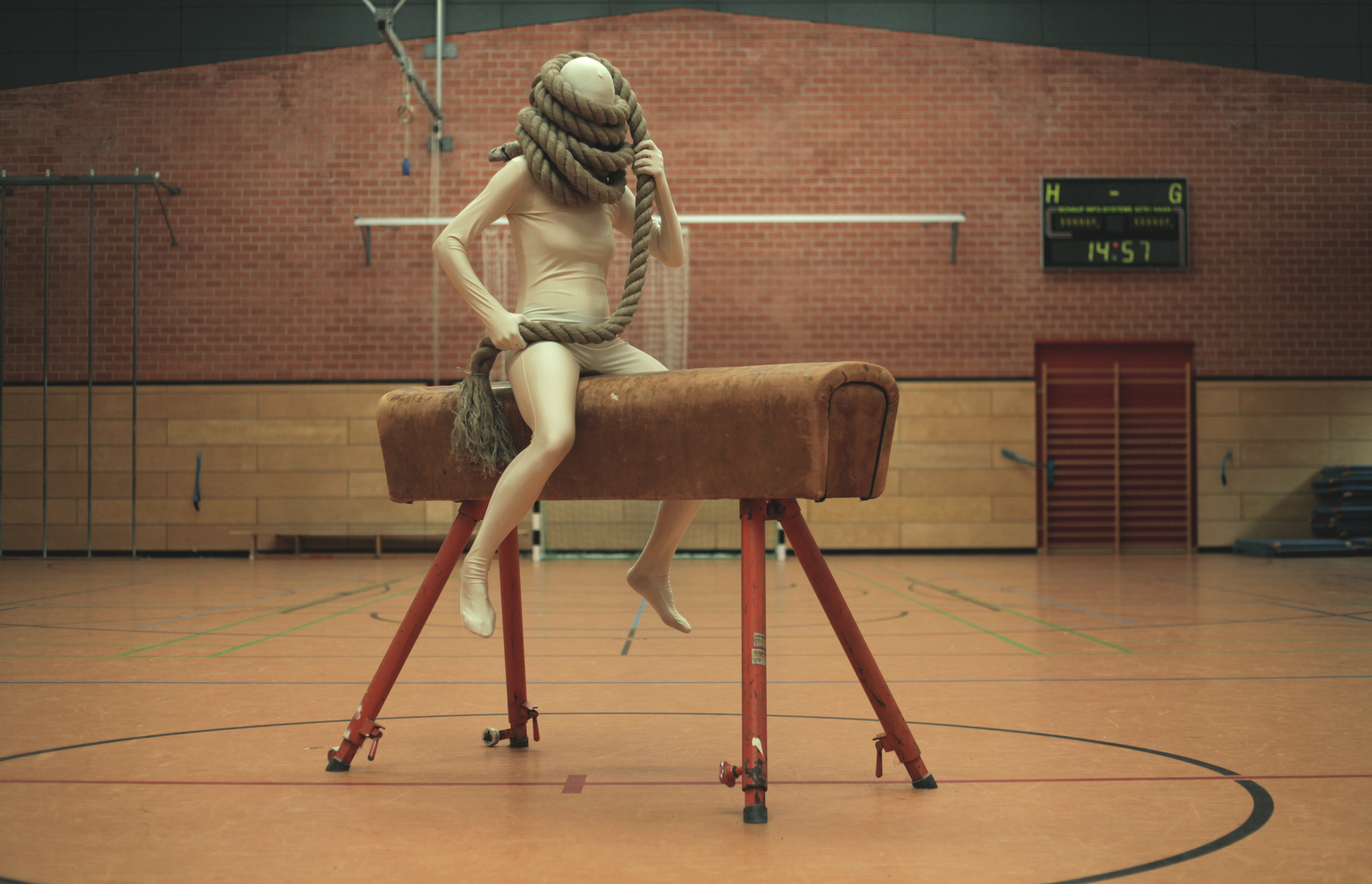 Beyond Constructed Remains is a continuation of Shiran Eliaserov's research around the potentialities of myth-making through the excavation of metaphor, performative action, and object-centered social relations.
In Eliaserov's prior piece,
Beyond Control
, which was performed in the Parochial Church in Berlin, she examined the ecstatic potential of various rope practices and the ways power condenses itself in the material and metaphor of "the Rope".
In this work, presented in the gym of Hausburgschule, Eliaserov expands her research on rope practices into the realm of sports training, exposing their possible origins as survival techniques, and questioning what can still be learned from them today.
Beyond Constructed Remains
is a collaborative effort towards a sphere that will host participants and performers in a shared transformative process, interweaving its symbolic and aesthetic dimensions to open up a space at the intersection of history, myth, and fiction The audience is invited to take
an active role and experience themselves as participants and as an ephemeral backdrop to the work.
Through this work, Eliaserov asks the question of what is left beyond the remains of our constructed past. What are we "practicing" for and as a consequence, what is held in our bodies?
Choreography and direction / Sound edit / Costume:
Shiran Eliaserov
Scenography, Dramaturgical support:
Yoav Admoni
Dramaturgy:
Marina Prados with the support of Paula Knüpling
Music pieces: DésArt & PoissOhm by
Mateo Lugo
Technical Direction:
Michele Piazzi
Production:
Sofia Fantuzzi
Performers:
Ardian Hartono, Sade Mamedova, Jean Sardou, Kewin Bonono, Volker Sobottke and Alma Goldenberg Dolev.

DRESS CODE :
The participants are requested to bring a white T-shirt and dark training pants.
Only indoor sneakers are allowed in the sports hall so please prepare your arrival
accordingly.
LOCATION:
Hausburgschule / Sporthalle
Otto-Ostrowski-Straße 44 ; 10249 Berlin, Germany
︎ About
︎ News
︎ BEYOND CONSTRUCTED REMAINS
︎ ‏
שאריות מובנות CONSTRUCTED REMAINS

︎ BEYOND CONTROL

︎ THE EMPTY

︎ CONFIGURATION OF A BROKEN FIGURE
︎ THE WIND
︎ INVERSION OF A FUTURE
︎ Holytropic Films
︎ Workshops & Teaching
︎ Contact